NIGHT FACE CARE
Lavender and Shea Butter
Key ingredients
Lavender Floral Water (soothing properties for dehydrated skin), Shea butter (rich in fatty acids).
98% of ingredients of natural origin / 21% of ingredients from organic farming.
About
WHY?
Intrinsic aging (↓ Sebaceous gland activity ↓ Protective lipid barrier of the SC), Lifestyle (Not drinking enough water ↓ Essential Fatty Acids), Environmental Factors (Exposure to the sun, cold winds, air conditioning units, forced air heating and low temperatures). EXEKO NIGHT CARE instantly creates a luminous complexion, and reduces signs of fatigue for refreshed and younger looking skin.
WHEN?
Apply each evening on perfectly cleansed skin, free of make-up. Use upward movements to smooth lines, starting from the middle of the face working outwards, then up and down the neck.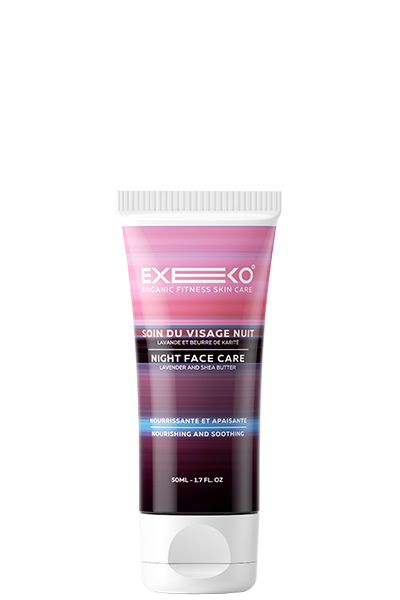 Nourishing and soothing for dehydrated skin